There's always something happening here on the farm. But, as far as the boyz were concerned, they were more interested in the new water puddles left by all the recent rains and our excavation/preparation work!
We started digging out and leveling a pad for our new addition behind our house about 3 weeks ago. Unfortunately, we were hit with a lot of rainy days and were delayed in getting the work done.
But patience prevailed… Today, all that work paid off as we took delivery of our new greenhouse!
There is still a tremendous amount of work to get the greenhouse environment to the state we want to get it into. But, the real work will be in what goes into the greenhouse. Stacy and Jan have already planted all their seedlings and have been growing them in the garage for a couple of weeks.
The girls are planning to fill the greenhouse with all types of herbs, spices, vegetables, and fruits and we are all looking forward to seeing the fruits of their labor (pun intended) in the coming weeks.
From what I have seen thus far, there will be lots of goodies for us to eat and sell at the farmer's markets around Ottawa and Baldwin City.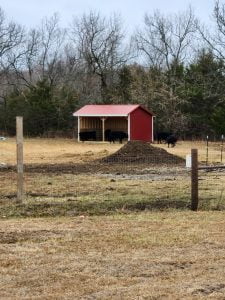 Be sure and check back often and watch for lots of pictures as the planting progresses and we start to see all the hard work begin to pay off.
I want to give a huge shout-out to the folks at D & M Mini Barns for providing us with the great buildings they have built. This is the second building we have purchased from them and we are very happy with their products and services. We now have a livestock barn and greenhouse built by their skilled craftsmen.
If you are in the market for a shed, chicken coop, greenhouse, or stock barn give them a call!
About Us
The Vines Vineyard and Farm is a Kansas Agritourism destination. Agritourism is a unique experience that combines traditional agriculture with tourism. The Vines realizes the benefits of tailoring their operations to tourism. Tourists enjoy visiting The Vines Vineyard and Farm and participating in the rural lifestyle. These activities provide lifelong memories for tourists and additional revenue for Kansas farmers who host them.
See our listing on the TravelKS website.
The Vines Vineyard and Farm was established in 2015. Our blog provides our visitors with information regarding the trials and tribulations we face, as we make progress toward our goals. Join us on our journey, subscribe to our blog, and follow us on Facebook!