When we began thinking about starting a vineyard in Kansas. The first thing we did, was to go out and visit a few of the vineyards in our local area. The goal of our visits were to learn what grape varieties were being grown and sample some of the wines that were being made from these grapes.
Popular Kansas Grape Varieties
We soon realized that all of the winery's we visited were growing the same grape varieties and using these varieties for the production of their wines. We found that Norton, Chambourcin, Traminette and Seyval Blanc were the common grape varieties used by the wineries we visited. Sure, there were a few others around, but these varieties made up the large majority of what we found in Kansas.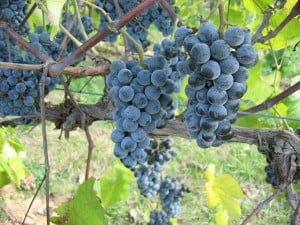 Not that there is anything wrong with these grape varieties. Most of these varieties are hybrid versions of a more common grape variety and have been specially grown and developed to handle the harsh winter conditions we have here in the mid-west.
Grape varieties like Pinot Noir, Cabernet and Merlot are not hearty enough for our climate and hence the "hybrid varietal" versions of these grapes fair better in the Kansas area.
We also noted, that it was common practice for the smaller vineyards in the area to grow the grape varieties that the larger vineyards were growing. By growing the grapes that the larger vineyards and wineries were growing, it provides an avenue for the smaller vineyards to sell their grape crops to the "Big Guys".  This approach of "doing what everyone else is doing" is especially helpful when the smaller vineyards are not running their own winery and know they will need to wholesale their grapes to wineries in the region. But, this approach does not help the smaller vineyards to stand out and grow as quickly as they might otherwise be able to.
New Grapes For Kansas
As our plans to establish a vineyard and winery began to materialize,  we wanted to do something different.
When we decided to start a vineyard/winery, we knew we didn't just want to follow what everyone else was doing. We wanted to do something different, something that would attract people to "The Vines". We wanted to introduce unique wines to the Kansas Wine Industry, wines that would allow us to stand out from other Kansas Vineyards and Wineries.
We have a special passion for Red Wines… Knowing how much we enjoy a good red wine, especially Pinot Noir, we thought it would be a great idea to do some research and find a hybrid grape with the characteristics of Pinot Noir.
Introducing Baco Noir
As far as we know, there aren't any other vineyards in the Kansas area that are growing or have tried to grow this hybrid Pinot Noir grape.
Baco Noir is one of North America's most successful hybrids. Baco Noir is a French-American hybrid grape variety that is produced as a red wine. It has been grown in the Northeastern United States and Canada. With it's light to medium body, dark inky color, good acidity, and preference for cooler climates, Baco Noir is a grower friendly alternative to Pinot Noir.
We found this Pinot Noir hybrid and decided this was the grape we wanted to grow. We knew this grape would make a good wine which could stand on it's own or could be blended and used as a base for our own Red Blend wines. But, we didn't want to take the opinions of all of the researchers and authors we found that wrote about this grape. So we decided to purchase a few bottles from some vineyards located in up-state New York and form our own opinions. Besides, if we were going to commit to growing a hybrid Pinot Noir grape variety, we wanted to be sure we would like it.
Our Own Taste Test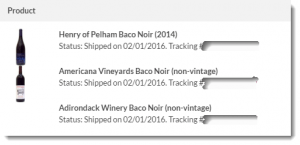 After checking all of the local wine outlets and having no luck in our search. We got online and did some "Googling" in the hope of locating an on-line wine store that carried bottles of wine made from the Baco Noir grape. We lucked out and found a web site called Market View Liquor which carried Baco Noir wine under several different winery labels.
We called and verified the site's information to ensure our credit card details would be safe. Then we ordered 3 bottles of Baco Noir wines from three different wineries. Within a few days our wine arrived and it was time to see if all of our research paid off!
Baco Noir is an exceptional grape and it produces a very extraordinary wine. We loved each of the wines we tried and found that the wineries had done an excellant job of bringing out the flavor of the wonderful grape. Baco Noir shows rich fruit tones, typified by blueberry and plum. The flavor was exceptional when paired with the proper oak aging but also had great qualities when aged in steel.
Forbe's Magazine wrote a great article on Baco Noir back in 2013 calling it the "America's Most Patriotic Wine".  In that article the author best describes how versatile the Baco Noir Grape is;
"Many versions I've had make big dark inky wines. We don't do that. We make a much lighter, more Pinot Noir style. We don't let it sit on the skins too long. We keep it light, and really chase the bright sour cherry and raspberry flavors. We baby it in used French oak and aim to make it in a Burgundian style. "
Baco Noir – A style rich with raspberries, sour cherry, lavender and earth—and some cassis lingering on the edges, just a stunning wine.
Summary
It's going to be 3 years before these vines are ready to start producing Kansas Wine and we're really excited to introduce these grapes to the Kansas Wine Industry.
But, believe us when we say it's going to be worth the wait… However, in the meantime you can always try Baco Noir from other regions of North America.
If you have comments about this article or about the Baco Noir grape let us hear them.
We'd like for you to share your experiences!