From the dogs to the pigs, the goats, the cows, all the way down to the chickens. We have some of the most spoiled farm animals you could ever imagine!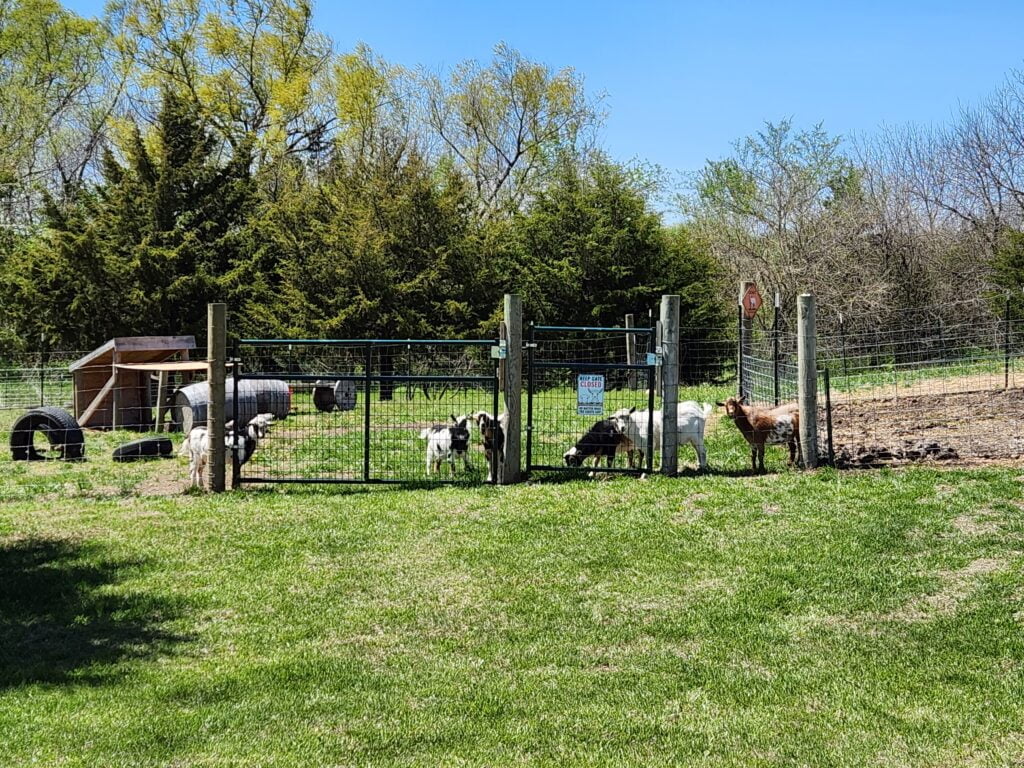 All of our farm animals are spoiled and we don't mind spoiling them every chance we get!
Our Goats
The goats (Wally, Griz, Stripe, Spot, Gizmo, and Jake) have an area where they can get out and play with their toys. When the weather is nice they enjoy laying out in the sun and tanning themselves. Yesterday, they all spent the day at the "Spa" getting their hooves trimmed and getting more spoiled in the process.
Our goats have an outside play area where they spend most of their time, but they also have a comfortable inside area, inside the barn (center pic in gallery), that keeps them out of the rain and on those days when the goats don't want to be outside (lazy goats).
Our Piggies
We just moved our piggies (Peppa and Georgie) into their new pasture area where they have been enjoying themselves. It hasn't taken them long to get settled into their new surroundings and begin "rooting up the yard". They enjoy it and are having a great time at it.
The pig's new pasture area gives them about 6500 square feet of space for the two of them to run and play in. Equipped with a mud bog and lots of grassy areas, they could not be happier!
They have a dog house in their area which we keep full of straw. At night, they snuggle up nice and cozy and snore like crazy. We'll get some more pics of the pigs and a video of them running around and have it posted soon.
Our Cows
As for the cows, well I'll let you be the judge.
You can watch this short video (~2 minutes) of them as they come running for the cattle cubes!
Sorry for the shaky video, I was trying to pour out their bucket of cubes and take the video at the same time.
Need I say more? Yes, you can see from their excitement, they like their grain and cattle cubes.
Our vet visited one day, checking on the cows, and he told my wife that "those are some of the most spoiled cows he has ever seen! [grin]"
Summary
We will admit it, we have some very spoiled farm animals. We enjoy treating all of our animals with the utmost care and enjoy spoiling them in the process. We encourage you to call us and schedule a time to bring your family out and visit with the farm animals here at The Vines.
About Us
The Vines Vineyard and Farm is a Kansas Agritourism destination. Agritourism is a unique experience that combines traditional agriculture with tourism. The Vines realizes the benefits of tailoring their operations to tourism. Tourists enjoy visiting The Vines Vineyard and Farm and participating in the rural lifestyle. These activities provide lifelong memories for tourists and additional revenue for Kansas farmers who host them.
See our listing on the TravelKS website.
The Vines Vineyard and Farm was established in 2015. Our blog provides our visitors with information regarding the trials and tribulations we face, as we make progress toward our goals. Join us on our journey, subscribe to our blog, and follow us on Facebook!