We knew that it was coming, we had plenty of time to prepare for it, and now it is here… All the hard work begins!

We have had some inquiries from our friends on Facebook, and other social networks, so we thought we should take a few minutes to provide an update on our progress.
We put together a short 1 minute and 30 second video to provide a little insight into the glamour of a working vineyard. We hope you enjoy it!
In our previous article, "Lull Before The Storm" we let you know about our plans for the spring of 2017 and planting an additional 750 plants here at The Vines!
Well the shipment arrived, and the hard work has been underway for about 4 weeks now. Planting 750 grape vines, is taking our small work crew more time than we had originally thought it would.
Besides drilling 750 holes for the vines to be planted in, we also had to drill an additional ~50 holes for the end posts. Each end post is 6″ x 10′ and is set 3′ into the ground with 180 lbs. of concrete.
We're 3 quarters of the way through now though… We have planted the Baco Noir, Seyval Blanc, and Chardonel with only the 185 Lacrosse vines left to plant. Although it's been a slower process than we had planned. Everything is going well and the vines appear to be adapting to their new home nicely!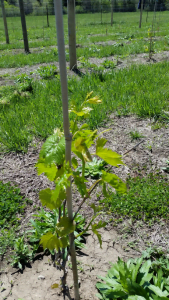 We'll provide more pictures once we are all done and the planting is complete.
Next year for planting season, we are thinking about hosting a vineyard planting party here at "The Vines".
Lord knows we could use all the help we can get!