Our November Beef Packages are now available for pre-order!
General Information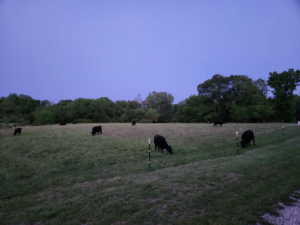 All of our bulk meat packages are processed by a reputable USDA-Inspected locker, which we entrust for all our processing to ensure quality in every package of meat that you purchase from us!
All of our animals receive the best care possible with their well-being at the forefront of every management decision. These animals are growth hormone and antibiotic-free.
We affectionately refer to them as our "Spoiled Animals"!
Beef Packages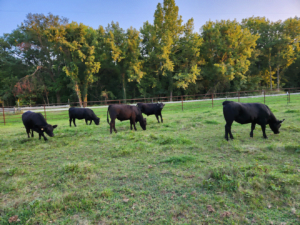 We have grass-fed, grain-finished Angus Beef headed to the locker on November 15th for which we are currently taking orders.
These steers have been raised on our farm for the last 18 months and grazing on pastures for the last 2 summers. During the winter months, they are fed brome hay grown on our farm. Every day we provide these animals with a treat of Beef Cattle Grower Cubes, Crimped Corn, All-Stock Sweet Feed, and Whole Oats. We anticipate that this will be some of the best quality meat you can find anywhere.
We're offering 1/4, 1/2, and whole bulk meat packages.
Get more details and shop our Beef Packages
About Us
The Vines Farm and Vineyard is an owner-operated Kansas farming operation. On the farm, we have a collection of livestock and poultry including grass-fed Angus beef, Hampshire/Kunekune pigs, Nigerian Dwarf goats, free-range chickens, and Guinea Hens. We sell direct to the consumer and offer a variety of farm-to-table meat packages. We are a Kansas Registered Meat Wholesaler #2436.
See our listing on the ShopKansasFarms website.
In addition, Our farm has a vineyard that we hope will produce Kansas-grown grapes for making and selling our own labeled wine someday, but for now, the vines are just pretty to look at.
The Vines is a Kansas Agritourism destination. Agritourism is a unique experience that combines traditional agriculture with tourism. The Vines realizes the benefits of tailoring their operations to tourism. Tourists enjoy visiting The Vines Farm and Vineyard and participating in the rural lifestyle. These activities provide lifelong memories for tourists and additional revenue for Kansas farmers who host them.
See our listing on the TravelKS website.
The Vines Farm and Vineyard was established in 2015. Our blog provides our visitors with information regarding the trials and tribulations we face, as we make progress toward our goals. Join us on our journey, subscribe to our blog, and follow us on our social media pages,  The Vines Twitter Page, and The Vines Facebook Page!